How to Wear White Jeans: An Investigation
There are a few things in life that I question on a regular basis: are we already in too deep when it comes to climate change? What is the true meaning of human existence?
And, what is perhaps the most tormenting: How on earth can I pull off white jeans?
I think white jeans are a chic, timeless look—when done right. But I've never been brave enough to really dive in and try them out for myself. Instead, I've resorted to admiring them on other women from afar, caressing them wistfully on store clothing racks, and envisioning myself perched on a yacht wearing the perfect pair.
I have discovered that many of my female friends have similar feelings about this notorious garment.
"I like them on other people. But not in the rain," my friend Paige tells me.
My colleague Sara (who encouraged me to embark on this investigation) says: "I have bought and returned so many pairs. I need you to find out what I should be looking for."
I did not take this request lightly. I am on a mission on behalf of Sara, and women everywhere.
Upon initial research, it seems that only the "cool girls" can really pull them off.
The crisp pant is often paired with a slouchy, neutral garments and perfectly messy hair. It exudes an "I care but I really don't care. Or do I?" sort of vibe.
Which, whether we want to admit it or not, is what we all strive for.
This breezy pair from Madewell ($130) would do the trick nicely:
But the white-jean-wearer's ultimate secret, I have discovered, lies not in which Gucci blouse they decide to pair their jeans with. It is about letting go of fear.
These white skinnies from TopShop ($30) for example, scare the pants off me (pun intended), but apparently, that's the point.
"They have to be the right cut and fit. And you can't be afraid," my friend Molly tells me. I trust that Molly knows what she's talking about because she always looks like she's hiding from the paparazzi and has been known to spend $200 on throw pillows.
Boom. There it is.
The only difference between these women and myself is the fact that they've clearly put aside the fear of getting splashed by rain or thwarted by menstruation.
They also probably have a great tailor.
But the point is, I can be this woman, and you can be this woman. A white denim queen lives inside of all of us—of this, I am certain.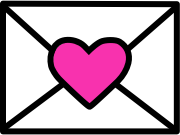 Sign up to receive
instant happy in your
mailbox every day.